How to Create Your Signature Cocktail Menu
October 12, 2023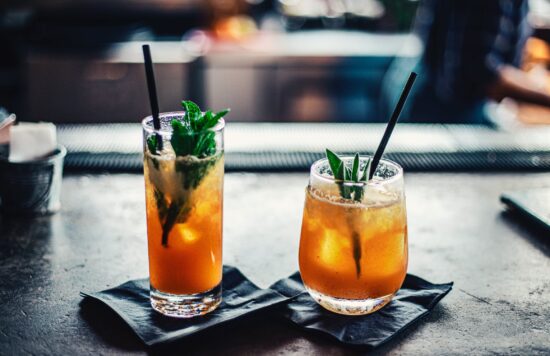 Drafting a signature cocktail menu is a fun and creative way to showcase your bar and staff's unique style and personality. A standout, well-rounded cocktail menu will differentiate your bar from competitors and attract the customers you want: customers looking for the unique and memorable experience that only you can provide.
How do you build a signature cocktail menu without being too corny or overthinking it? Let's go step-by-step through how to create your signature cocktail menu and look at the cocktail trends for the year ahead.
Start with Your Concept and Theme
The first consideration is your bar's overall concept and theme. What kind of place did you set out to create? Are you a retro tiki bar, a vintage speakeasy or a chic uptown destination?
Use your bar's concept and theme as your starting point, then build out unexpected directions for a curated menu that's well-rounded and well-edited. Remember that a bespoke drinks menu is a marketing tool and it should support your brand accordingly.
For example, at a tiki bar you'd want to center rum, of course, and tropical flavors like pineapple, coconut and mango. But from there you can go just about anywhere, branching out into island-themed martinis, flower-garnished sours, sweet mai tais or pineapple screwdrivers.
Likewise, the perfect gimlet or Bond martini is a great place to start your speakeasy journey through the deeper umami of ingredients like amaro and aperol and classic spirits like gin and vodka. From there, you could throw in something lighter that maintains and twists your flavor profile in a surprising way like a ginger-beer mule rounded off with a splash of cognac or whiskey.
Consider the Moment
Another important factor to consider is the season and time of day. Is this a summer menu with light and buzzy refreshing cocktails, or a warm and spicy winter menu? A brunch menu might feature mimosas and bloody marys, while stronger and more complex cocktails can spice up an evening menu. Do you serve meals, or snacks? You're creating an experience people will love, and it's up to you to define exactly what that means.
Experiment with Flavor Combinations
Once you've identified your theme and season, it's time to start experimenting with flavors. Play around with different spirits, mixers and garnishes to create unique and delicious cocktails that reflect your bar's personality. Consider seasonal ingredients, like fresh herbs, fruits and spices, or anything else that catches your eye, to add depth and complexity to your drinks.
While it's always fun to come up with complicated or acquired tastes that might impress other bartenders, remember your purpose: to imagine drinks and a menu selection that will bring people in the door demanding their favorites and then keep them there, trying drink after drink. If you want to preserve that "house speciality" vibe, keep it simple and tasty.
Taste, Test, Repeat and Refine
Once you've sketched out your cocktail menu, it's important to test and refine your signature drinks. Ask your customers and visitors for feedback and adjust the recipes accordingly. Pay attention to which cocktails are most popular and which ones aren't hitting and then use that information to continually improve.
At no point are you required to stick with a drink or even a whole menu that isn't performing. Your guests will appreciate the boundless creativity as you change things up and perfect your selection.
More Inspiration for 2024
To help you get started, here are some of the biggest trends coming down the pipeline. See if there's anything that sparks your creativity!
Negroni Sbagliato with a Twist
The Negroni is the most popular modern cocktail, so think about this beloved mix of gin or wine with an Italian bitter like Campari and sweet Italian vermouth before you take off into the unknown. Lambrusco, for example, is lighter than prosecco and gives the drink different flavor notes. Lillet blanc can soften harsher French aperitifs like Suze, for an international spin.
Tasty Martinis are Back
Espresso Martinis are a little twisted these days, with Scotch, local cold-brewed coffee and flavored liqueurs, while the old classic Apple Martini is a much more adult drink with the addition of fresh or savory ingredients like rosemary, and more complex apple spirits like Calvados.
Artisan Agave
Tequila and mezcal are beloved and will remain so, but sotol and raicilla are two more agave-based drinks that will pop up. Look for tequila twists in all kinds of classic cocktails: imagine a tequila Old-Fashioned, Lemon Drops or a mezcal Negroni.
Double-Spirit Drinks
2023 was the year of the three-ingredient cocktail as a response to pandemic lonesomeness. Simple to make and easy to remember, pared-down recipes were the home bartender's bread and butter after a decade of complicated fussy drinks.
But the two-spirit cocktail is gaining in popularity in our stripped-down age of authentic, wholesome flavors for 2024. From the Rusty Nail (Scotch and Drambuie) to the Ferrari (equal parts Fernet Branca and Campari) and M&M (Montenegro Amaro with mezcal), you can have a lot of fun introducing spirits and their flavors and playing them off against each other.
Bring BASSET On The Fly into the Mix
Drawing up your signature cocktail menu is a fun, creative way to show off your establishment's unique personality. With just a bit of experimentation and a spirit of adventure, you can create a memorable, successful cocktail menu.
Now all that's left is to make sure all your servers and bartenders are BASSET certified, by taking advantage of BASSET On The Fly's free employer accounts. BASSET On The Fly helps establishments like yours ensure management and employees are up-to-date on Illinois's latest regulations. Our online BASSET certification course is approved by the Illinois Liquor Control Commission, self-paced, fast, and only $12.99. Register online today!
Back to Blog