The Seller-Server's Essential Tool Kit
October 24, 2019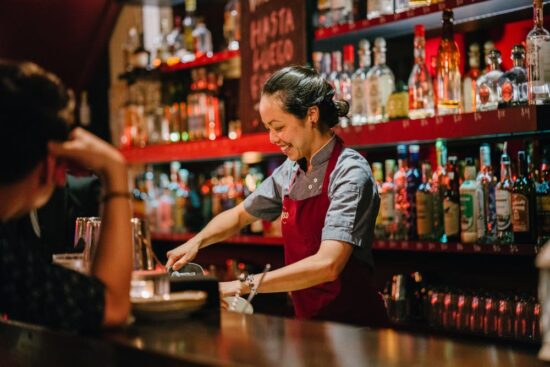 If you're a seller-server, your restaurant or bar can be a grueling place. The work can be relentless at times, and yet your livelihood depends on projecting an unfailingly positive attitude. You stay in compliance with what BASSET taught you, you follow your employer's rules and policies, you work hard to provide the best service possible to your customers. Amid all your hard work, don't forget a few simple but essential tools to make your load a little lighter.
Comfortable, Nonslip Shoes
It's one thing to have tired feet. It's another thing entirely to have sore or blistered feet. It's just not worth it. And aside from comfort, the last thing you need is to be slipping around while carrying food or drinks. You have enough to worry about at work. Do yourself a favor and don't add your shoes to the list. Focus on finding a non slip shoe that prioritizes comfort over style.
Headache Pain Reliever
Some days, headaches are inevitable. Don't suffer through it! Your fellow servers will thank you too when they need it. Remember to also drink plenty of water, this is a step that many servers forget when trying to get rid of their headaches. Sometimes, a little bit of caffeine, like tea or coffee, can provide temporary relief as well. BC Powder is a long-time restaurant industry favorite for eliminating headache pain quickly.
Tums
There's nothing worse than being around food sights and smells with an upset stomach. If you're truly sick, stay home. But for the minor tummy troubles that tend to crop up, keep something with you. Tums will always be your best bet, put in a pinch, you can try adding one teaspoon of baking soda mixed in water, as a natural antacid for acid reflux.
Gum or Mints
In addition to covering for the obvious needs, gum or mint can be reenergizing and give you a little more spring in your step. Mouthwash or mouthwash strips can always be helpful too. The need for a breath revitalizer is especially true for those that are working a double. We know that some servers and bartenders keep a tube of toothpaste and toothbrush with them for between shifts, after smoke breaks, or even first thing in the morning, after setting up and their cup of coffee.
Lip Balm
You have to do a lot of talking when you're bartending or serving. No need to make it harder on yourself by not having some lip balm handy. This tip is especially true in the cold weather months, as we are more prone to chapped lips in the winter. Forget your chapstick? Here's a pro tip: Dab a bit of olive oil, coconut oil, or almond oil from the kitchen on to your lips to get a little bit of relief until you can get your hands on some chapstick.
A Spare Shirt
Spills will happen, and they'll be no big deal if you have an extra top. If it's laundry day and you don't have a spare shirt to spare, you can keep the following items in your care or locker:
A bleach pen or stain remover, depending on the color of your shirt
Febreze
Wrinkle release spray
And of Course, Your BASSET Card from BASSET On The Fly
It's always a good idea to have a copy of your card handy, even if it's in electronic format on your phone. You can login to your BASSET On The Fly account anytime to access it.
BASSET On The Fly is a leading provider of online BASSET seller-server training and certification licensed by the Illinois Liquor Control Commission (ILCC). 
Back to Blog