How to Control Alcohol Service for Corporate Events
September 28, 2022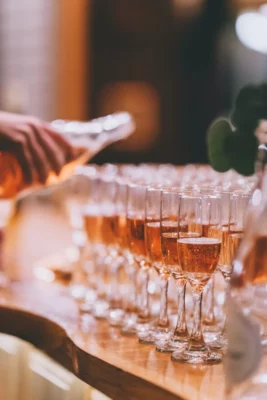 2022 has been the year for people to start getting social again. This means that many businesses have resumed special events and annual parties to celebrate their employees' hard work.
In some cases, these corporate events involve bars and alcohol service. If your team is hired as alcohol servers at a corporate event in Illinois, here are the best ways to keep the party fun while preventing alcohol-related escalations that your team can be liable for.
Set an End Time for Your Services
If the event doesn't have a specified ending time, it's a good idea for you as a server to dictate when your services will end. If you display a prominent end time, it can help keep the event responsible and sends off the signal that this is still a work event and not a wild kegger.
Prepare for Minors to Attend
If the event allows employees to bring family members, know that it's always possible for a minor to attempt to slip you a fake ID.
Be prepared for these incidents and know the signs of a fake Illinois ID:
Incorrect text color, font size
Lamination tampering
Unscannable barcode
Lack of hologram security feature
The presenter looks visibly nervous (i.e. heavy breathing, avoiding eye contact)
Discuss Drink Tickets With Event Organizers
One way to maintain control over a corporate event that has a bar is to offer a limited number of drink tickets to each attendee.
As the server, your team can work with the organization's management to plan out drink tickets in advance. To prevent tickets from being shared or stolen, encourage employers to print each employee's name on their tickets.
This simple step to prevent overconsumption reduces you and the event organizer's risk factor once the event ends and the guests start to go home.
Should you fail to limit the number of drinks handed out, someone drunk driving and causing an accident after the function could lead authorities to both of your doorsteps for supplying the alcohol at the event.
Have Non-Alcoholic Drinks On-Hand
Not everyone is going to be a drinker, and that's okay! Always be prepared to please everyone at your event and have plenty of non-alcoholic drinks like water, tonic water, soda, and juices at the ready.
Know the Signs When Someone's Had Enough
Finally, there is always the chance that someone pre-gamed, snuck alcohol into the event, or managed to sneak in more drinks from the bar than they should have.
Knowing the signs of an intoxicated person can help you tell someone they've had enough and help prevent further intoxication and risk.
Some of the clear signs of intoxication are:
Slurred speech
Bloodshot eyes
Stumbling
Falling asleep
Vomiting
Someone who's ordered several drinks in a short amount of time
How Can Online Certification Help?
Being an alcohol server often means staying on top of your shifts and leading a busy work life. It can be difficult to get your Illinois BASSET certification in person while juggling a hectic shift schedule.
An online certification course like BASSET On The Fly can help you and your employees stay on top of your jobs while remaining up-to-date with the latest Illinois alcohol rules and regulations.
Become a Safer Server Today With BASSET On The Fly
At BASSET On The Fly, we believe your industry education should never be rushed. That's why we offer a course without a timer that lets you and your employees get BASSET certified on your own time.
Our online course is easy to start and stress-free to finish. Register online today!
Back to Blog